Maxx Life is a Family Gym, and we encourage parents to bring their kids with them to the gym.  Our trainers know first hand, that it can be difficult for parents to get their kids minded on a regular basis, so they can attend the gym.  As trainers, we often have to take our own kids to the gym during school holidays, while we work.
So kids of all ages are more than welcome at Maxx Life, with their parents of course.
When parents take their kids to our gym, some are babies in car seats and just sit there and look cute.  Some are in the terrible 2's, and go exploring around the gym lol.  And others are all ages, and all like to do different things.  Some read, many sit watching their tablets, some wonder about, and some exercise along side their parents.
We've been getting an ever increasing amount of parents asking about bringing their kids along with them and getting them into exercise.  And parents asking if they need Family membership for the kids to take part etc.  
Up until now, everything has been quite casual, but with the demand increasing, we've decided to create better guidelines around kids exercising in the gym, and the cost of it.
The Cost for Kids to Take Part
We love to see kids exercising, and want to encourage parents to get their kids into exercise.  Therefore, we have priced our classes for kids as fair as we can.
Primary School Kids – If your kid is in primary school, there is no charge.  Just bring them along and let them join in beside you.  They won't be able to do all of the exercises, but we'll get them moving as much as possible.  There is no need to book them in, except in the case of Spin (please see below).
Secondary School –  If your kid is in secondary school, then they will need to book into any classes, and pay a small fee.  You will need to register an account on our booking system for each kid, to book them into any classes.  You can add any kids to your account, in your Profile, and control all their bookings from there.
We've created a special Fitness Class bundle for secondary school kids, £10 cash for 5 fitness class credits.  You can purchase the bundle in the gym and we can add it to your kids account.  Or if you prefer, £2.50 for 1 class.
Past Secondary School – We know their still your little baby, but when they've left secondary school, we'll consider them closer to an adult at this stage, and the normal price of £5 per class will apply.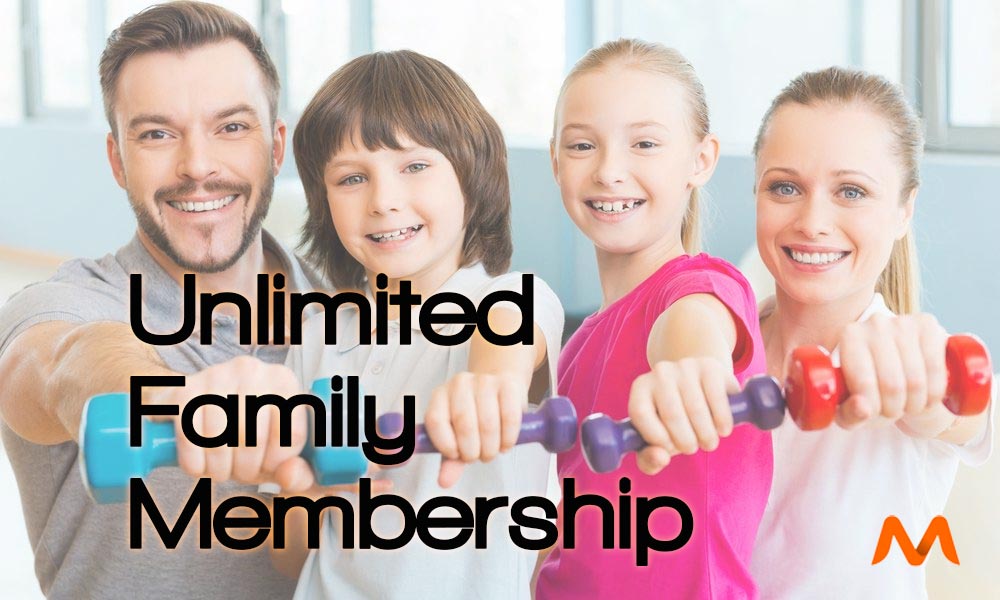 Our Family membership for £50 /mth, includes 2 adults and kids under 20 from the same household.  It gives all members on the membership, full Gold access, so Unlimited Fitness Classes and Gym.  If you have a few older kids and they are attending regularly, you may find this option better value.  If both adults are at the gym, this option is almost always better value.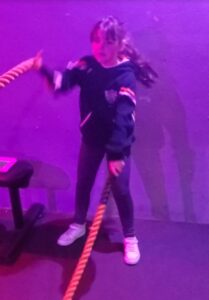 What Classes Can Kids Take Part In
The following is a list of classes that kids can take part in.
Primary school kids don't really officially take part in any class, but they can be beside you and do some exercises and have fun.  It's more about feeling like they are taking part, thank actually taking part for primary school kids.  With the exception of Spin (please see below)
Secondary School Kids
Spin – A great class for kids to exercise alongside their family.  As long as they are tall enough to use the spin bikes, there isn't anything they can't do really.  
Spin is the only class that requires a payment for primary school kids, as it requires reserving a bike and reducing the number that can attend.
Circuits-X – With the help of the parent, kids can do most of the exercises in Circuits-X, and there is lots of space, as we use the whole gym.
Bootcamp & Circuits – Kids can do most exercises in these classes, and we can usually show them easier options quite quickly.
Tabata – A great class for kids, mostly light cardio at a fast pace, and you get to work in partners
Mens BootCamp – An opportunity for a bit of father and son male bonding between.  There can be quite a bit of weight lifting which isn't ideal for under 16's, but our trainers are good at adjusting to suit the younger teens.
Zumba – I could only imagine kids would love this class with their mums.  
Kettlebells – We have kettlebells as light as 4kg, so would be suitable for older secondary school kids. 
Classes not suitable for kids under 16 – Body Pump, Abs Blast, Strong, Corebells, Bums&Tums.